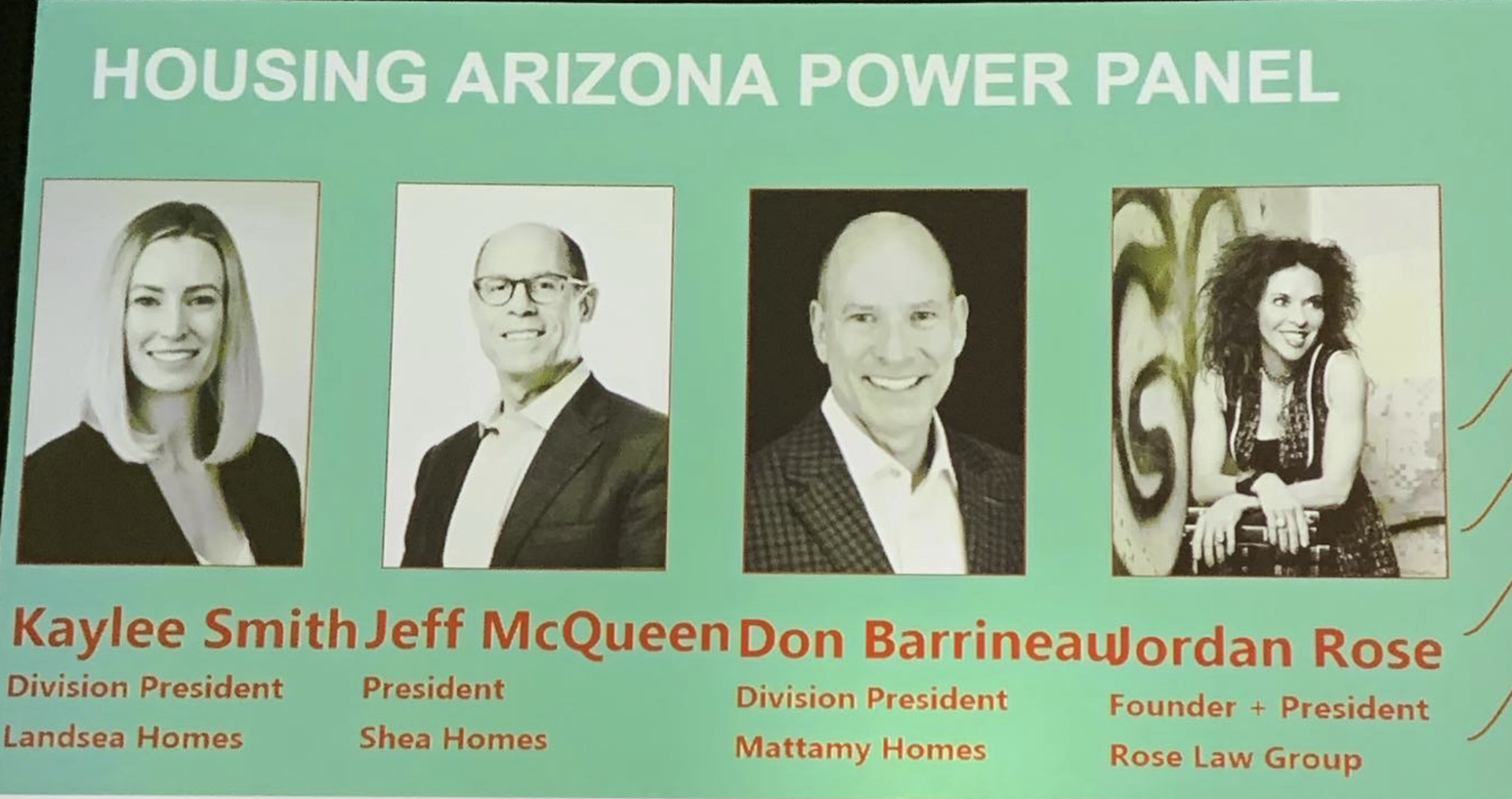 The Housing Market Economic Forecast to Help You Navigate 2022
By Madelaine Braggs | Rose Law Group Reporter
Covid-19 reshaped the American economy and unexpectedly led to a wildly successful selling season for homebuilders and developers. But two years into the pandemic, the labor market is tight, inflation is the highest in 40 years, and supply chain issues are causing chronic disruptions with product availability.
The 2022 Annual Arizona DealMakers event Thursday was packed with exclusive market insights, giving the real estate industry a map for what's to come this year. The Power Panel featuring Mattamy Homes Division President Don Barrineau, Shea Homes President Jeff McQueen, Landsea Homes Division President Kaylee Smith and Jordan Rose, Rose Law Group founder and president, analyzed the data with a further look at what homebuilders' biggest challenges will be.
"Everything's going up." 
While it's true wages are increasing, product prices are surging even faster. According to Zonda Chief Economist Ali Wolf, real wages are actually flat to negative when compared to inflation. They expect costs to stay up but wage growth to start to slow this year.
"Whatever trends you'll see with the national home sale and supply market, is only intensified in the Phoenix metro market," said Wolf.
Because of this, 90 percent of homebuilders are intentionally slowing their sales because their production cannot keep up. Zonda found that 50% of homebuilders surveyed said the spring selling season feels like it started early and every single builder in Arizona had to raise their prices. Even still, Arizona has one of the hottest markets in the country, with 36% of shoppers coming out of state to find cost of living relief and 30% of those movers coming from Los Angeles.
Zonda projects a 5% growth for new home starts in 2022 and consumers weighing higher wages and increased savings against higher interest rates and home prices. Mortgage rates are about 3.5% right now, but projections from across the industry are expecting rates to increase to about 4%. Wolf warns to pay attention to the compound if inflation increases while wage growth slows. "Something's going to have to give," she said.
The Yo-Yo Effect 
Steven Hensley, Zonda Advisory Senior Manager, says homebuilders are struggling to keep their lots intact. Active community count is down 5% YOY and down 15% from 2 years ago. He says it's been like a yo-yo effect over the last several months with low supply and economists wondering when they'll hit the true bottom.
This market is seeing the lowest level of vacant developed lots since 2003 but lot development is picking up, 13% higher YOY, which indicates supply is on the way.
Oddly, there's a large variance between homes being started and homes actually finishing and being closed. Hensley said, "Historically, they mirrored each other, which makes sense. You start a home, you finish a home. But we're seeing starts are up to 28-thousand, while closings plateaued around 20-thousand."
Builders are having a hard time finishing these projects, labor is difficult to find right now and critical to getting these homes finally finished. Homebuilders are seeing chronic delays in building timelines.
In three years, the median new home base price appreciation went up 50% and resale prices keep inching higher. Median resale price reached $425,000 in December, which was 62% higher than 2019. Unfortunately, Zonda found that 55% of those surveyed can't afford a home in this market.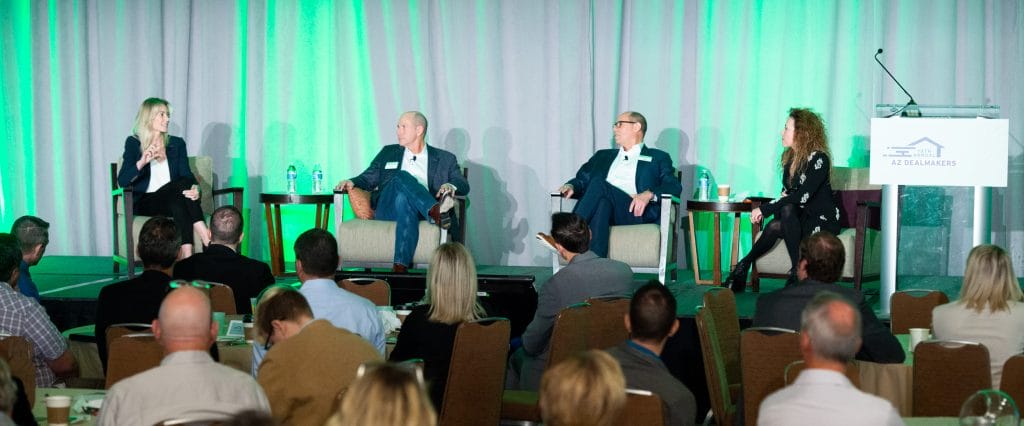 POWER PANEL 
Even with daunting projections and inflation looming, homebuilders are optimistic. "It will continue to be a battle to build, but it can't stay like that. It's America, we know how to build [stuff]," said Don Barrineau, Division President of Mattamy Homes.
Kaylee Smith, Division President of Landsea Homes, thinks 2022 is going to be a great year. "I'm a little less concerned about interest rates. FHA limits are rising for us and the average half-percent increase affects the homebuyer $130.
Arizona may have a unique advantage to getting through some of the biggest challenges for developers. The Power Panel says labor is the #1 obstacle for builders and that could be linked to immigration politics. Jordan Rose, Rose Law Group founder and president asked how builders were affected by SB 1070, which "scared people out of the state for immigration reasons."
Jeff McQueen, President of Shea Homes, said "This country and this market has relied on immigration to build the economy here in terms of construction and we just have less of that kind of immigration. It's difficult for folks to get here these days. Plus, we're not doing enough in high schools and junior colleges to educate our own people to get in to construction."
Barrineau agrees, saying, "We need to bring more folks out of trade schools and normalize that that's ok and you can win at life by going in to trades. Our biggest worry is cycle time… it's primarily labor and supply issues."
When it comes to labor, Smith says we are seeing a new generation enter homebuilding and related trades. "With the growth of our industry right now, we are starting to see the younger folks fresh out of college or skip college to go in to these trades, but that work force isn't going to mature for another ten years."
How does this cycle compare to previous cycles you've lived through? 
Don Barrineau said unlike in 2008, "Even if there is a softening on the demand side I don't think there will be a massive fall out of the supply side because we're not over supplying."
Jeff McQueen says the snapback has been almost scary. "We're attracting a great diverse schedule of different companies that want to be here in this market. Vacant developed lots are way down. The rally seems a bit off the charts but all the fundamentals underneath that don't scare me."
McQueen came from a Texas market where an oil bust devastated the entire state and economy. He says Arizona reminds him of how Texas responded, how the industry and politicians rallied to never let that happen again.
"When I got here I thought, 'This market is awesome.' Governor Ducey and Jordan Rose and everybody here is working together to create a great economy, with manufacturing, tourism and everything to make a local economy great."
Now that Governor Doug Ducey is termed out, Jordan Rose says, "It's really important who we elect as governor."
Kaylee Smith says one of the biggest differences between this cycle and the 06-08 cycle is the demographics of homebuyers. Millennials are now starting to tap in. "My generation is finally having kids and buying homes, but most of the people I know still haven't, which tells me there's a huge demand that has yet to emerge."
How did Covid affect your business?  
The millennial life style changed in the pandemic. "Covid was great for our business because singles suddenly weren't spending their money on traveling and were confined to their small apartments," said Smith. They were incentivized to buy and have more space to work from home. Landsea Homes is focused on high performance homes and they recently adopted "healthy home," which means every home now comes with an air purifier.
McQueen says Shea Homes is now seeing throwback trends. Now that home officers are back after dying off in the 90's, Shea is again building soundproofed walls to drown out work calls.
Millennials weren't the only generation to change their buying habits. Barrineau says, "Our business was built on selling to empty nesters, but this pandemic accelerated people's mindsets and timelines.
In the last two years, at least three-million pre-retirees left the work force and according to Barrineau, a lot ended up in Arizona. "I think the psychology has changed. Buyers who are 50-65, were hit by this pandemic and think, 'Where do I want to live? How do I want to live?' They're thinking about high or low state taxes, etc."
It forced Mattamy Homes to speed up to serve them and sell homes to those out of staters who had never even been to our property. It totally changed how we interacted with our customers. We're finding ways to work with less sales people model homes and we're finding more efficient ways to operate because of it."
Ultimately…
The panel says millennials and boomers are driving the housing market right now, but continued inflation will stop this homebuilding train if not reversed.