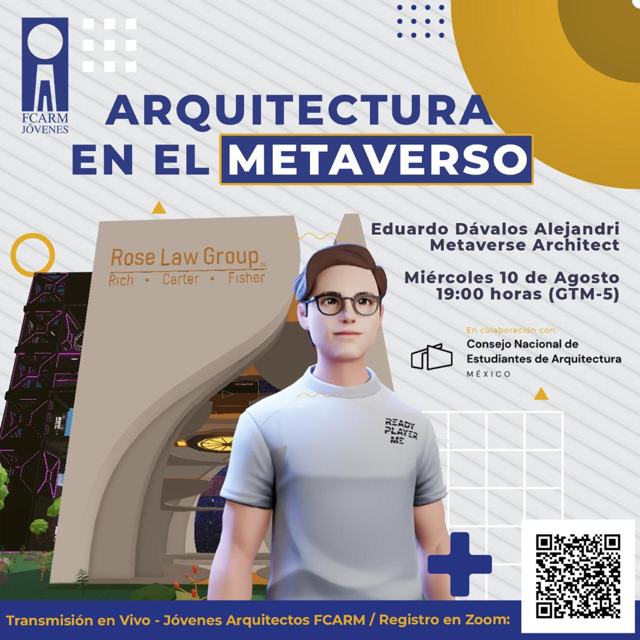 By Rose Law Group Reporter
Mark your calendar! Because on Wednesday, August 10th, Eduardo Dávalos, director of metaverse planning and design at Rose Law Group, will be leading a global webinar session on metaverse architecture. The session gets underway at 7 p.m. CDMX. (19:00 hours, GMT-5).
Rose Law Group Reporter touched base with Eduardo Dávalos about the event. Here's a little of what he had to say…
What is the theme of this event and what will you be discussing or presenting?
The objective of this event is to show young architects the wide variety of opportunities emerging from the metaverse.  It is important that architects start getting involved in the metaverse since it will be our job to decide the way it looks and develops. In this event i will be explaining blockchain basics and how it is taking over our lifes and jobs
Can you give some insight to the significance of these two organizations putting on the event?
CONEA(Consejo Nacional de Estudiantes de Arquitectura) is the largest association for architecture students in Mexico, presence in the most important universities in the country.. They organize events and conferences to keep students up to date with architectural trends all over the world…  FCARM(Federacion de Colegios de Arquitectos de la Republica Mexicana) is an organization that promotes the good practice of architecture in Mexico, enhancing their connections and their professional development, they give prizes to the most important Mexican Architect each year, they also organize events and conferences.
How excited are you to see the rest of the world interested in metaverse and Blockchain?
It is exciting to see architects that are interested in these topics, it is a completely new branch that will bring job opportunities not only to architects but many other professions that will eventually find their spot in the metaverse, I truly believe blockchain came here to change the way we interact with each other.