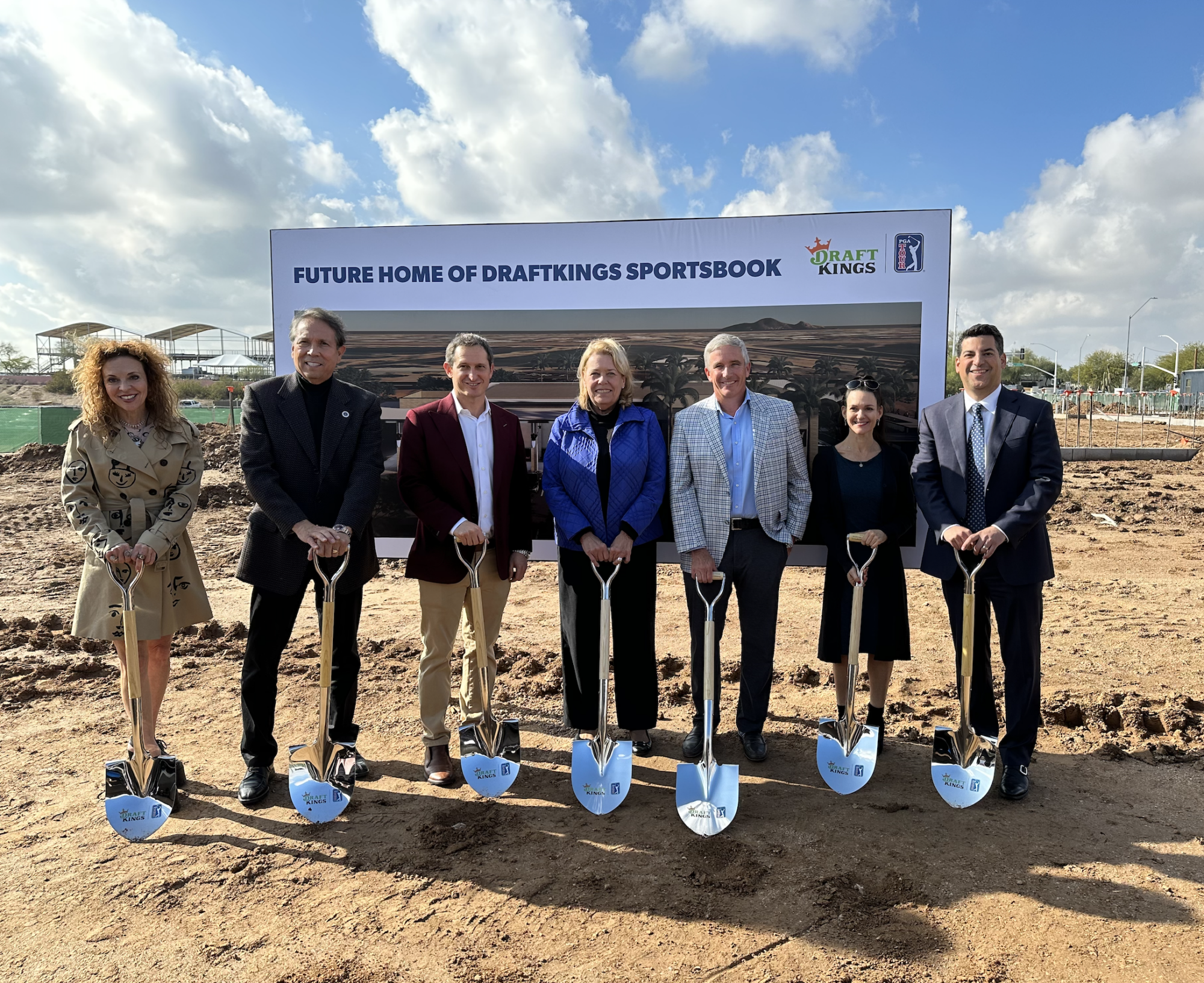 (Disclosure: Rose Law Group represents the PGA TOUR.)
By Jessica Marksbury | Golf News
SCOTTSDALE, Ariz. — Monday afternoon was unseasonably cloudy and gray in Scottsdale, Ariz., but the mood was certainly sunny just outside of the parking lot at TPC Champions, where representatives from DraftKings and the PGA Tour held a groundbreaking ceremony for a first-of-its-kind sportsbook, the DraftKings Sportsbook at TPC Scottsdale, which is slated to open next fall.
Situated directly across the street from TPC Scottsdale and adjacent to TPC Scottsdale's sibling, TPC Champions, the DraftKings Sportsbook at TPC Scottsdale will be 12,000 square-foot gaming and dining mecca. Billed as a first-class 19th hole experience, the sportsbook will be open all year to both golfers and non-golfers, and guests will be welcome to wager on all sports. It will be the first sports book ever to be built at a PGA Tour tournament site.
The PGA Tour first joined forces with with DraftKings in 2019, when the Tour enlisted DraftKings as their daily fantasy sports partner, then DraftKings quickly became the Tour's first official betting operator. Shortly thereafter, the idea for a brick-and-mortar iteration at TPC Scottsdale began coming to fruition. The plans to make TPC Scottsdale DraftKings' first home were announced in April 2021, and construction began earlier this year.
"We know this will elevate The People's Open to a new level," PGA Tour Commissioner Jay Monahan said at the groundbreaking. "We know this new facility will be worthy of Scottsdale and Arizona's reputation as a world-class destination, and help maximize the PGA Tour's economic, tourism and charitable impacts on this state and this community."
Monahan was one of several VIPs in attendance at the groundbreaking. Others included DraftKings CEO Jason Robins, City of Scottsdale mayor David Ortega, Thunderbirds President Dr. Michael Golding, and Arizona state and department of gaming representatives.
The groundbreaking ceremony included numerous renderings of the space (check out the photos above), which will feature a luxe and modern vibe, complete with multiple glass firepits, indoor and outdoor seating, and of course, gaming kiosks and screens galore.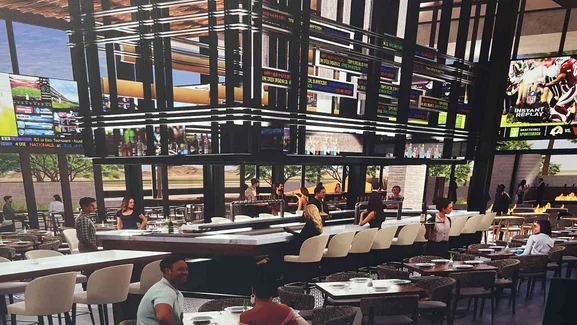 Render of the sportsbook interior