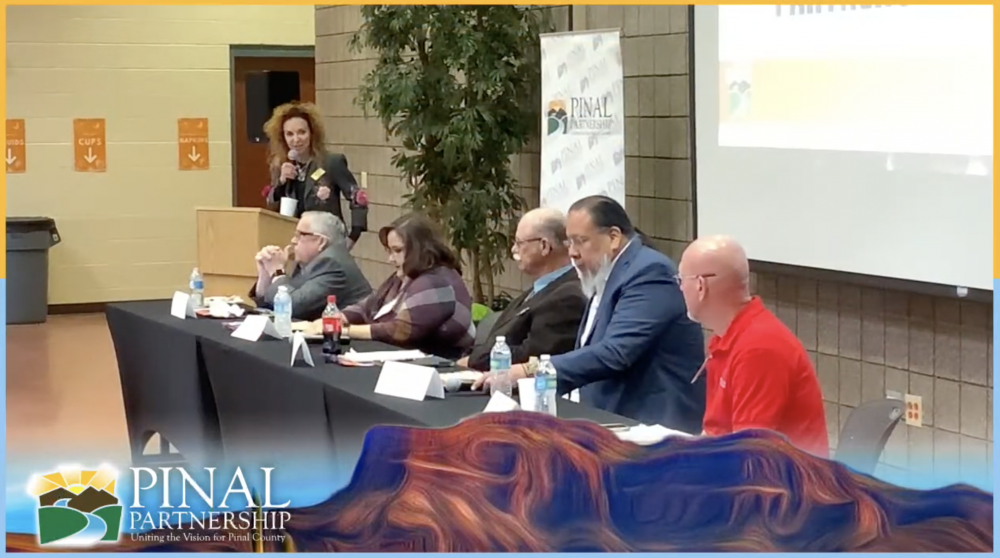 By Madelaine Braggs | Rose Law Group Reporter
Northern Pinal County is looking forward to plenty of economic development and construction. Local leaders celebrated their exciting projects and good news at the latest Pinal Partnership panel moderated by Jordan Rose, Rose Law Group founder and president, featuring Gila River Indian Community Governor Stephen Lewis, Pinal County Supervisor Jeff Serdy, Apache Junction Mayor Chip Wilson, Superior Mayor Mila Besich, and Queen Creek Mayor Gail Barney.
Gila River, a home away from home for football fans 
The Super Bowl is coming back to Arizona, and the Gila River Indian Community is going to be a part of the action. Governor Lewis says the reservation will be hosting several events as a sponsor of the game, and they're working with the Arizona host committee to see how Gila River can be of service to sports mega-fans. "That'll be a great opportunity to showcase the economic development," said Governor Lewis.
Governor Lewis points out that the last Super Bowl teams who stayed at Gila River were the New England Patriots and the New York Giants, "So whoever plays and stays with us seems to win…"
Gila River recently completed a full renovation at the Sheraton Horse Pass with over 500 rooms and opened a second wing at Wild Horse Pass Casino with a rooftop restaurant, so patrons can see the sunset over the Estrella Mountains as they dine. "We modernized the gaming compacts and are opening a 4th casino in San Tan Mountain. We're bringing a lot of jobs to our community," said Governor Lewis.
As tourism grows in the area, so do concerns about water. Governor Lewis urges collaboration on solutions for a challenge he says we're all tied to. "The mega-drought has affected all of us. We need to come up with creative innovative solutions to water conservation. It affects all sectors, residential and economic development and farming. We pride ourselves on a long history of being farmers and agriculturists taking care of the water."
"Water is biggest focus of Pinal Partnership this year," said Jordan Rose, Rose Law Group founder and president.
Gila River is also proud of recent investments to education, with three newly constructed state of the arts schools. "That was very important for us to raise the level of academic achievement and have world class school on our reservation," said Governor Lewis. "We're investing in teaching our culture, our religion and our historic ties to water and agriculture. These schools are game changers." They're opening schools to full in-person instruction this month.
Apache Junction keeps cowboy culture alive 
Apache Junction Mayor Chip Wilson says the city is balancing growth with rural Arizona values. They've recently celebrated the biggest residential expansion in city history, with several thousand homes to be built over the next ten years. Homes are filling out next to the "great neighbors of Queen Creek, Superior and Mesa," he says.
But easy does it… Wilson says they're seizing opportunity for to grow in a controlled way, to ensure plenty of water while incorporating sewer systems.
"We want to have water make sure the type of growth going into our community meets the needs of the community." Mayor Wilson says Apache Junction is proud of its open space mountain views. "Everyone who lives in this area wants to maintain that view open and rural feeling. How many communities can have a horse and rider going through a McDonald's drive thru, ordering a cup of coffee on horseback?" He says maintaining the rural Arizona lifestyleis their top priority while planning land use.
The Mayor says the city is also excited to bring back annual events. They just had the 100th year anniversary of the founding of the name Apache Junction and the 21st Annual Lost Dutchman Marathon, followed by the Lost Dutchman parade and rodeo. "We're most excited about getting back to living again and being around everybody," said the mayor.
Superior is bringing disco back 
The town of Superior is getting a mega-makeover, but as they move into a new era, Mayor Mila Besich says they're not forgetting their roots. The town recently purchased the original Superior High School to be their next multi-faceted "hub for all things Superior," according to the mayor.
The main building will see new life as Superior's new Town Hall, while the rest of campus will house city staff, the library, a senior center, co-working space, and exciting new developments like a trade skills training facility for industries such as welding, electrical, plumbing and an entrepreneurial development space with Pinal at Work. Their mission is to ensure occupational labor programs are offered in eastern Pinal County.
Mayor Besich says they're anticipating a move in date by the first quarter of 2023. She assures those who are regulars in the chambers, "there will be a disco ball!" Apparently, town staff had grown fond of the decades old disco ball that sat disabled in the Superior council chambers.
It had become a bit of a running joke, however with new town buildings, how could they not invest in a new working disco ball, right? Mayor Besich says she realized, "There's lots of new tech with disco balls… LED lights, do we want lasers? We're going to make sure it's top of the line."
Superior's move to the future hasn't been easy. The mayor says, "We're learning a lot about adding infrastructure to a town that's over 100 years old."
Their main challenge is supply chain issues. Besich says wastewater treatment plant improvement projects have been delayed almost two years and the town just realized plans to purchase a fleet of vehicles fell through because of issues at the Canadian border. The vehicles won't even be manufactured. "These things especially hit small towns, because now we're going to have to spend money on maintenance for a very old fleet."
Other exciting infrastructure projects are also getting tied up in supply chain constraints. This includes more helicopter pads for emergency services, more infrastructure at the airport and an aviation school interested in coming to Superior. The town also received a $2.25-million environmental grant that will allow Superior to return water to Queen Creek.
Queen Creek's New Police Department 
Queen Creek's Mayor Gail Barney says his town now has the "best police department in the country." They launched the new police department with hiring Police Chief Randy Brice and 70 "of the best officers, hand-selected from around the country," according to Mayor Barney.  He says each candidate had at least five years of experience.
The town has been proudly investing in public safety, with the recent opening of a new fire station and plans to open another in March.
The town also annexed over 41 acres of State Trust Land, indicating possible industrial projects that could help boost local economy. Mayor Barney says he legally can't comment on much, but he hints that one deal they're working on is with a company that could bring over 30-thousand job with wages over 60k.
Mayor Barney says, "We've had tremendous, large industrial companies interested in coming to the town." He credits much of the recent success in Queen Creek and Pinal County to partnership.
"Everything we're doing, works together, what's going on in the county is all intertwined. It used to be cities and counties working on their own, but not anymore. If we don't work together, we're going to lose together."
One year down, countless roads to go 
Pinal County Supervisor Jeff Serdy, of District 5, just celebrated his first year with the Board of Supervisors. He says for the past year, everything he heard from constituents was about roads, "We need roads. Get us roads. Fix the roads we already have."
But he says with the increase of development, those transportation projects are more important than ever. "We didn't plan ahead 30, 40 years ago and now we're paying for it but now we're getting caught up." Serdy says San Tan Valley is the biggest city in Pinal County without being a city and they focused a lot of road work in that area.
Supervisor Serdy is also prepping for a redistricting because of the census. "My district is basically going to be the Mountain District, getting the Superstitions to Superior and all of Highway 60, which is another challenge, because it's only two lanes going to New Mexico."
But he's excited about the change, saying "I've been a tourism advocate my whole career. I wonder why we don't have more resorts by the Superstitions?" Serdy says he's working on getting a national monument designation (not national parks designation) for a piece of the Superstition Mountains and the Salt River, to draw more tourists. He says he wants to protect the beautiful natural landscape that his district has, while giving recreational activities that attract out-of-state dollars.
As Pinal County becomes a hot-spot destination in Arizona, Supervisor Serdy says he will be "an advocate for the mountains" and northern Pinal County.