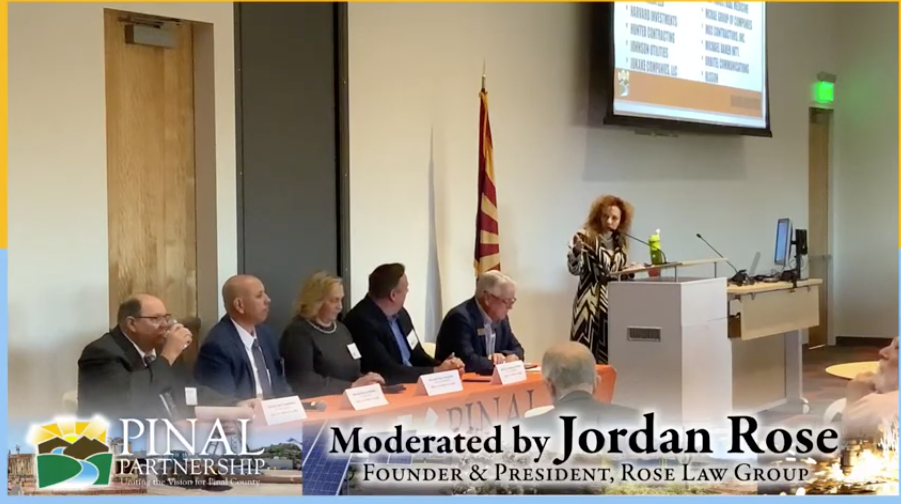 By Madelaine Braggs | Rose Law Group Reporter
Pinal County mayors have plenty to celebrate as the development boom hits rural Arizona. They each detailed how their municipalities are capitalizing on that growth at Pinal Partnership's panel moderated by Jordan Rose, Rose Law Group founder and President.
Mayor Craig McFarland – Casa Grande
Lucid Phase 2
Industrial and housing growth
I-10 Expansion
Casa Grande Mayor Craig McFarland says the Lucid electric vehicle manufacturing factory is adding another 2.9 million sq. ft. and another two thousand employees in the next 18 months. "It's a game changer. Casa Grande is on the mind now for the Valley," said Mayor McFarland.
He also said Casa Grande is looking forward to easier transportation following the $400-million pledge from Governor Doug Ducey dedicated to expanding the I-10. It's a two-year project that in addition to the North-South freeway, is projected as one of the most important factors to serving an influx of residents moving to the area, many of which are commuting to work in the Phoenix metro.
The North-South Corridor proposed transportation route in Pinal County spans more than 50 miles between U.S. 60 in Apache Junction and I-10 in Eloy, passing through the city of Coolidge, town of Florence and portions of unincorporated Pinal County along the way.
Mayor Christian Price – Maricopa
Problem Solving
Legacy
Community
"We continue to grow at a hyperbolic rate, an astronomical pace," exclaimed Maricopa Mayor Christian Price. He says one of the most exciting things about this new economic era is figuring out how to solve new challenges from water, land, and roadways.
He hopes the work the city of Maricopa is doing now creates a legacy for development in the future.  "You can look back in five or ten years and think, 'That wouldn't be there today if we didn't put forth the effort to solve those issues.' Seeing the physical manifestation of what came out of the ground is exciting, but what's going on behind the scenes is important."
As neighborhoods pop up and fill out, Mayor Price says getting to know the new neighbors is half the fun. "It's so fascinating to get to know people at the grocery store." Mayor Price says Maricopa residents are locating to this area based on industrial jobs and housing opportunity, which are attracting what he says are some "pretty famous big shots," like NFL players and Harlem Globetrotters. He says he loves asking people what brought them to Maricopa. "It's a wonderful piece of our state and history that is now evolving."
Mayor Tara Walter – Florence
Development
Jobs
Events
Florence Mayor Tara Walter says the city is experiencing exponential growth in all areas. Redevelopment and new development projects are pouring in and around Florence and with that is coming a wave of new jobs. "There's no better time than now with jobs that are available. There are plenty of jobs if you're looking," she says.
Mayor Walter says Eloy visitors have a lot of adventures to choose from. There's ATV riding in Box Canyon, horse rides and projects developing rodeo grounds. She says Eloy just held the longest running junior rodeo in the State of Arizona.
"We have amazing events like Country Thunder and hot air balloon festivals. My favorite event is the Country Thunder Music Festival because we offer a 'Road to Country Thunder,' which is a free event with various vendors," she said. "We are considered one of the largest pop up cities when country thunder comes, between 30-60 thousand people attend."
Mayor Micah Powell – Eloy
Jobs
Infrastructure
Tourism
Eloy Mayor Micah Powell says the first year of his term has been filled with growth and improvements for the city.  "We announced 500 new jobs, which is big for a city like Eloy, when you haven't had much growth in the job section."
Mayor Powell says the city is spending a million dollars a year in road infrastructure improvements and it's already making a difference. "The image and perception of the town has gotten so much better and we're bringing interest back in our community," he said.
Powell says Eloy is moving forward with building projects from downtown to the outskirts and he hopes it brings more tourists to the area. "We have the world's largest sky diving facility and thousands of visitors coming to do hundreds of thousands of jumps each year."
"It's great not just for Eloy, but for Pinal County," added Mayor Powell.
Mayor Jon Thompson – Coolidge
Nikola
Homebuilding
City Finances
Coolidge is another city where electric vehicle production has set up shop. Nikola build 38 EV semi-trucks in their first year and are currently in the process of building a one-million sq. ft. facility in Coolidge. "That's moving along pretty well and not like other projects we see just sitting there," said Mayor Jon Thompson.
Mayor Thompson says the city approved 700 single family home permits last year, including all the new apartment builds. "We anticipate doing that many or more this year," he said. However, Mayor Thompson said to make that possible, city officials will have to focus more on upgrading wastewater treatment and other water project solutions.
Perhaps the most exciting news out of Coolidge was about the city's debts. Mayor Thompson says the city was finally catching up on its finances when they were hit by public safety retirement obligations that raised their debt to $8 million. He happily announced that debt has been paid down to $2.5 million and the rest will be paid in cash this year. "With that obligation done, we can use that money for other things," he said.
READ ALSO:
Pinal Partnership: Mayors list more roads, grocery stores as major regional needs; discussion moderated by Rose Law Group Founder and President Jordan Rose