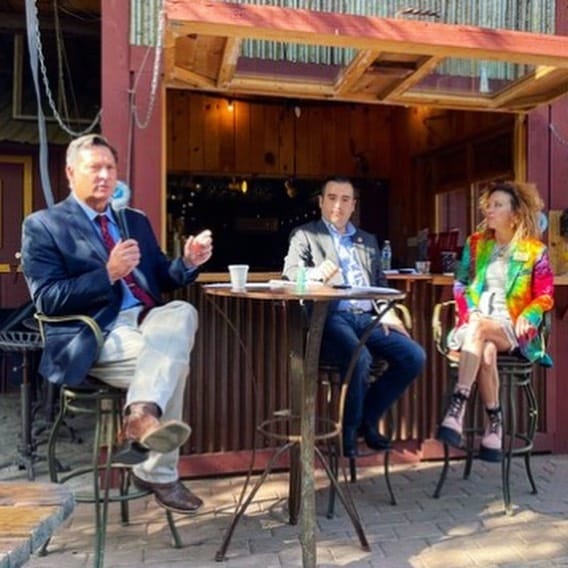 By Aaron Dorman | Pinal Central
FLORENCE — Building bridges is important for both local infrastructure and political relationships. Such was the takeaway from the first in-person Pinal Partnership breakfast in over a year, featuring Rep. David Cook, R-Globe, and Sen. T.J. Shope, R-Coolidge.
During a question-and-answer session Friday at the Windmill Winery, the two legislators discussed how the strength of local partnerships among county officials has helped pave the way for legislation that helps the county.
"I think you have a district that works together," Shope said. "If there is something we need to do, it's easy for us being in opposite chambers to go ahead and shoot a text over, say, 'hey, this is something we need to fix, can I look at a bill of yours? What do we need to help each other on?'"
---
Read also: What Pinal County legislators are working on; Rep. Cook and Sen. Shope interviewed by Jordan Rose, Rose Law Group Founder and President
---
Shope also named Gila River Indian Community Governor Stephen Roe Lewis as a "fantastic partner" for legislation including an Interstate 10 bridge and with tribal gaming laws.
During the hour-long discussion, Cook and Shope gave an update on many key bills they had either helped pass or were advocating for.
Moderator Jordan Rose of Rose Law Group ended the discussion with a note of how excited Pinal Partnership was to have meetings in person again.

"My gratitude to everyone that came out today," Rose said. "Just to see people in person again is tremendous."