Practice Areas: Land Use and Zoning,Transportation Issues, State Land, Special Districts, Public Private Partnerships, Native American Law, Government Affairs, Administrative Law, Sports Law, Professional Athlete Representation, Athlete Amateur Athlete Representation, Name Image Likeness (NIL) Law, Space Law, NFT Law, Decentralized Autonomous Organizations (DAO), Web3, Metaverse
Jordan Rose started Rose Law Group pc leasing space for just herself in another lawyer's storage room and has, in twenty-two years, grown the firm to the largest woman-owned Law Firm in Arizona history. In July of 2021, 'The Phoenix Business Journal" noted Jordan as a "Heavy Hitter" amongst the "20 names to know in Real Estate". In July of 2019 Jordan was recognized by 'The Business Journals' as one of the top 100 national Influencers in law – amongst just three from Arizona. In the same month, she was featured on the cover of 'Trends' magazine in an article entitled "The Legal Ease of Jordan Rose" the author writes, "she feels she can outwork anybody, and she likes to win". Jordan's passion is adding value to her client's business propositions—her goal being "to make my clients more money." The Phoenix Business Journal once asked Jordan what she enjoys most about the practice of law, and she responded, "the ability to help people solve their problems."
Recently in a challenging case where Jordan represented the NBA Phoenix Suns in an agreement to remodel the Talking Stick Resort Arena, Phoenix City Councilman Sal DicCiccio, said "[she's] done an amazing job, I'm just amazed at what [she's] been able to pull together here." In May of 2021, when her client, the PHX Rising, took the field for their first game at their new stadium at Gila River Indian Community, team Co-Owner, Tim Riester, in front of thousands of cheering soccer fans, thanked Jordan for "creating this opportunity for us to have a negotiation …Thank you Jordan, we appreciate you."
In a profile by the Arizona Capitol Times, then Arizona Corporation Commission Chairman, Gary Pierce, was asked about Jordan and responded "Nowadays, you turn around and say, 'Oh Jordan's doing that, and that, too. Jordan's Firm is representing that group and that group.' And she got there because she works hard. She's unafraid to do what it takes to ethically advocate the positions she's been hired to take." Of her ability to come up with creative solutions to complex problems, Arizona Supreme Court justice, Clint Bolick, says "It's very instinctive for her, and that's unique. It's not something they teach you in law school." In 2016 Governor Doug Ducey appointed Jordan to serve as the only private industry member of the State Groundwater Committee charged with developing water policy for the State. In December 2014, Governor Elect Doug Ducey named Jordan to serve, along with Michael Bidwill, Don Brandt, Jim Click and Angela Ducey, as a CoChair for the Inauguration Committee. In addition, he appointed her to the Ducey Transition Committee as a subcommittee member for Economic Development, Entrepreneurship, and International Trade. In 2018, the Phoenix Business Journal inducted Jordan into their first class of Business leaders who had previously received their prestigious 40 Under 40 Award to the "Hall of Fame." You may also see Jordan on CNN, as she has served as a legal analyst on high profile criminal trials such as Jodi Arias and standing up for Trayvon Martin.
Rose Law Group pc is a full-service business and real estate Law Firm, providing services ranging from trusts and estates and family law to employment, business litigation, NFT protection, renewable energy, space law, COVID-19 relief funding, business and real estate transactions, renewable energy, cannabis, zoning/land use, metaverse, web3 law and lobbying. It is the only Law Firm in Arizona (and possibly the nation) to combine attorneys with an array of urban planners, LEED-certified consultants, project managers, energy consultants, and construction managers so that the firm can take a project from due diligence and acquisition through planning and project management on to actual construction.
Jordan practices in the areas of business consulting, government relations, municipal issues, land use, zoning, sports law, NFT protection, administrative law and lobbying. Jordan has been fortunate to represent clients in some of the most consequential decisions and policy issues in Arizona's recent history. Jordan has been pleased to represent all of the publicly traded homebuilders doing business in Arizona in their land use issues (winning some of the most complicated zoning cases in Arizona), the Phoenix Rising Football Club, the PGA TOUR, The Phoenix Suns, Microsoft, BASIS charter schools, Great Hearts charter school, Phoenix Country Day School, Microsoft, Tesla, SunRun, Cypress Creek, EDF Renewables, Resolution Copper, the largest data center developers involved in the state, international energy firms, the largest landowners in the State of Arizona, including the landowner developing multiple electric vehicle manufacturing locations, Goodyear, Chicanos Por La Causa, and the most prominent water solutions developer in the world, among others.
Jordan also owns another company that handles traffic engineering for development clients – Summit Land Management, www.Summitlandmgmt.com.
In addition, she founded and owns Rose Law Group Reporter, www.roselawgroupreporter.com, which employs three journalists to produce newsworthy publications for various industry groups, including the "The Dealmaker," a must read daily publication featuring the top stories in Arizona real estate each day, just before lunch.
Finally, during the pandemic, in order to help schools and businesses around the nation get back to work/school, she started a company, www.healthyverify.com that is the country's only medically based independent certification company helping to minimize the risk of disease.
Jordan is currently most active as President of Pinal Partnership, a development organization focusing on the fastest growing County in Arizona; Barrow's Neurological Institute Board Member; Executive Board and Facilities Committee Chair for Phoenix Country Day School; a 7 year mentor for the Urban Land Institute's Partnership Forum; YPO Gold Arizona; Board of Advisors, Diplomatic Core of Arizona; and Co-Chair City County Committee for Greater Phoenix Leadership. She is also a member of Charter 100 and the Central Arizona College Foundation Board.
The Firm has, among others, had the honor of representing the mother of Thomas Eric Duncan, the first victim of Ebola to die in the United States, the Arizona House and Senate Leadership in their fight to preserve Arizona's States Rights over a casino, business owners fighting against a ballot initiated tax increase, the late Cochise County Sheriff Larry Dever in his constitutional battles, Doctors seeking to operate medical marijuana dispensaries in accordance with the Arizona voter-approved Act, the number one high school in the nation in a number of controversial zoning cases, a Coalition of landowners in an election to provide crucial roadways, the NBA Phoenix Suns in their arena renovation approvals, the PHX Rising professional soccer franchise in their stadium relocation and other matters, the PGA TOUR, Microsoft Corporation in their data center expansion, a number of publicly and privately held home builders with water issues, and the largest distributed solar energy provider in the world. Other clients include private and publicly held corporations, entrepreneurs, elected officials, developers, homebuilders, renewable energy companies, engineers, architects, property owners, farmers, citizen groups, non-profit organizations and private homeowners.
Jordan has been called "the Queen of Pinal County" by the Phoenix Business Journal, as she and Rose Law Group represented possibly as many as 90% of all represented zoning cases that were processed through the fastest growing County in the country during the height of the latest real estate boom. Recently the Phoenix Business Journal named her to their business "Hall of Fame." She has served as a legal commentator on CNN's HLN. The Arizona Republic named her as one of the "20 Women Who Will Shape Arizona by 2020," and when she was thirty-four, they named her one of the "Ten Women to Watch Under 40 Years Old." AZRE Magazine recognized her as one of three "Top People to Know in Commercial Real Estate and a Top Industry Leader" in 2010- 2011. The Phoenix Business Journal named her as one of the "Leading Lawyers," "40 under 40", and one of the twenty-five "Power Players of the Year." The Arizona Republic called her one of the top five "Power Couples" in Arizona. Jordan was also named a finalist for 2018 National Association of Women in Business Award. The Phoenix Business Journal inducted Jordan into the '40 Under 40 Hall of Fame,' for her continuing work, making a difference in the business community and then inducted her into the first class of "Alumni". In July 2021, The Phoenix Business Journal named her one of the "20 names to know in Real Estate". She has been named among the top 100 party hosts in America by The Salonniere.
In 2021, both the Arizona Republic and the Capitol Times names Rose Law Group pc as Best Places to Work. For 10 years in a row, Rose Law Group pc was honored as one of the top four Best Places to Work in Arizona for small-sized businesses by the Phoenix Business Journal and BestCompaniesAZ. The Arizona Republic named Rose Law Group as the "Hot Growth Company" of 2009.
She is a frequent speaker and master of ceremonies at real estate, business motivation and renewable energy-related events. Jordan once delivered the keynote address for the annual Xavier Preparatory Father Daughter Breakfast (she spoke after the World Series Winning pitcher, Randy Johnson, saying "I never thought I would be a closer for Randy Johnson". During the Covid-19 shut downs she started a weekly "Power Lunch" where she hosted the top business leaders in Arizona to bring the community together. She loves moderating panels. She has appeared as a guest on Channel 12News, Sunday Square Off, KAET Channel 8, Horizon, and various radio and television programs. Jordan often provides legal commentary on a wide range of legal issues and active cases for local, state and national news programming. Nearly every month she speaks for various groups including keynotes for Urban Land Institute, Phoenix Rotary 100, Lambda Alpha, Arizona Planning Association, Spring Agriculture Outlook Forum, Valley Partnership, Pinal Partnership, East Valley Citizens Forum, Arizonans for National Security, Society of Professional Engineers, and many others.
In the past, she has served as Chairman of the Honorary Society for the Advancement of Land Economics, Lambda Alpha International Land Economics Weekend and was involved with the Board of Governors for the Dodie Londen Excellence in Public Series. She has also served as a member of the Board of Directors for the Joe Foss Institute, an advisor to the Board of Teen Lifeline, and a past member of the Special Olympics Board, a past member of the American Heart Association's Heartball Committee, a past member of the Crest Insurance Advisory Board, YMCA Board, and a member of Valley Forward. She continues to be a member of various Chambers of Commerce including, Casa Grande, Coolidge, Maricopa, and Scottsdale as well as the Pinal Historic Museum. Jordan also serves as a TGen Foundation Board Ambassador. She has served as finance chair for the Arizona Republican Party, Vice Chair for the American Heart Association Heart Ball, a member of the Board of Trustees for the Phoenix Symphony, a Herberger Theater board member, founding member of Las Palomas, a member of the Board of Trustees for Center for Autism Research Development, a member of the Board of Trustees for The Make-a-Wish Foundation, Valley Leadership Class IX, a past member of the Junior League of Phoenix, a past President of the Phoenix Museum of History, Chairman of the Board Development Committee for the YMCA, the Foundation Board for the Central Arizona College, and a member of the real estate fraternity, Lambda Alpha International.
Other past awards include the DREAMR Award for her involvement in Downtown Phoenix. In the first year of the award, Jordan was named "Top 40 under 40″ by the Phoenix Business Journal, and prior to that, for two years, Jordan was named "Most Influential Under 30″ by the Phoenix Business Journal, as "Top Women in the Valley" by Hola Latino America Magazine, as a "Women Who Care" in the first year of their award by the Phoenix Theater, and "Top 20 Women in Business" by City AZ magazine and was a Trends Fashionality. She was the "conservative angel" on the weekly Charles Goyette Radio Show broadcast on 550 KFYI, "Charles' Angels", a member of the Institute for Justice's Board of Directors, a member of the Goldwater 100, a regular columnist for the Arizona Journal of Business and Real Estate, and was a periodic columnist to The Tribune newspaper, The Scottsdale Republic, and The Business Journal. She has been an associate scholar for the Goldwater Institute, which has published two of her studies, "Eminent Domain Abuse in Arizona: The Growing Threat to Private Property," and a study she co-authored with Court Rich, "Protecting Private Property Rights: The Case for Vested Property Rights."
Jordan has two wonderful boys, Logan, 15, and Carson, 12, who she loves to watch do just about anything.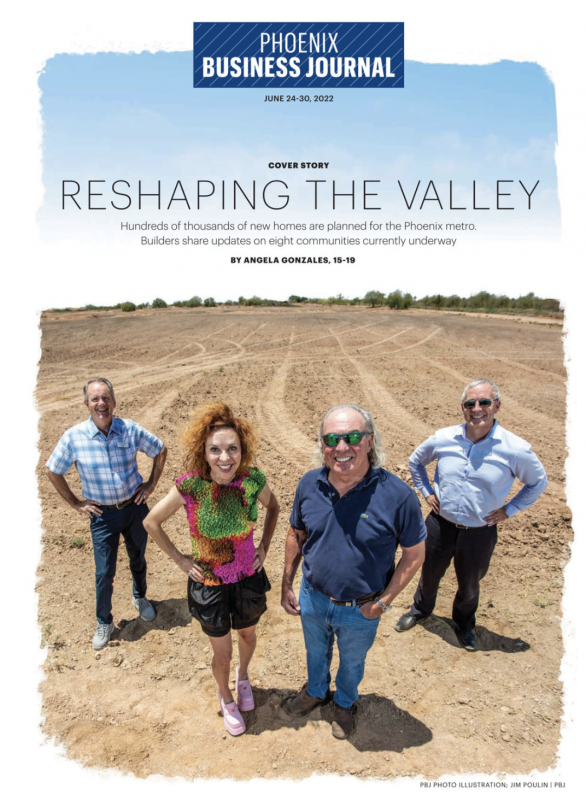 (Disclosure: Rose Law Group represents Brookfield Residential, Lennar, Taylor Morrison and Toll Brothers.) By Angela Gonzales | Phoenix Business Journal Despite a recent slowdown in home closings and homebuilder permits, the Valley's housing market is still undersupplied as more people continue to move to the region. Remarkably, the Valley only has about 28,000 finished lots available for homebuilders to build
Read More »