By Madelaine Braggs | Rose Law Group Reporter 
With a massive influx of new out of state residents filling Phoenix metro vacancies, Arizona desperately needs housing development to grow in Pinal County, but with no groundwater.
It seems like an impossible task… however, Pinal Partnership is proving that the solutions are here, legislation just needs to get on the same page.
At this week's Pinal Partnership panel Water Solutions 2.0, moderated by Rose Law Group founder and president Jordan Rose, farmers, former mayors, stakeholders and regulators all gathered to share their expertise. While the situation is daunting, it turns out there is a way to develop through a drought.
I can't get a new assured water supply determination, what can I do?  
Terri Sue Rossi, Water Resources Manager at Arizona Water Company, says if a project plan brings something compelling to the table, there's a chance they can make a deal. "We're looking at the property and figuring out all the assets that exist in your control that we can leverage to create an assured water supply."
But it won't be easy. Questions will arise such as, "Are you located in an irrigation district where we can deliver water? Or can you with your rights? Can we recover that irrigation system and then build and isolate a water system for your subdivision?"
To create a water system to serve a housing development, without new groundwater permits, builders essentially must include an irrigation system and treatment plan that would have to bring water from a resource like the Colorado River, for example. It would have to be funneled somehow into Arizona canals, purified and then into homes.
Rossi says this is often extremely costly and an unpleasant deal-breaking realization for many. It's easier to develop subdivisions if they already have an assured water supply determination, in which case the project developers would then meet with the Arizona Water team of engineers and talk infrastructure. The only problem is new ones are no longer being issued at this time. "Our conversations with developers range from happy to real complicated," she said.
Water law in the works 
Jake Lenderking, Senior Vice President, Water Resources and Legislative Affairs at GlobalWater Resources says there's promise on the horizon. "We had some successful legislation and complex things to bring water for subdivisions."
Lenderking says Global Water is working on several proposals, but one of their goals is to break down legal barriers and remove statutory roadblocks that prevent water storage credit. He says the groundwater model is a great area in the law and several bodies like stakeholders and the Department of Water have all had their hands in the kitchen.
There are perhaps too many differing opinions he says, "Each is looking at different areas with their ideas of how to do it and it hasn't been entirely successful. We should add some definition to that and enhance the process because the groundwater model will be used for years after we're allowed to use groundwater."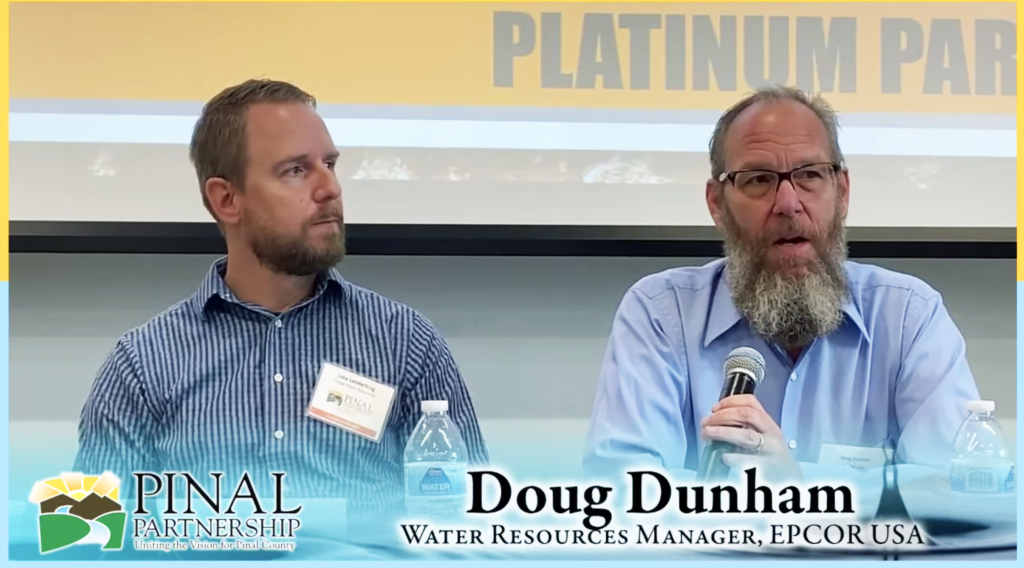 Johnson Utilities is the gift that keeps on giving!  
That's what Doug Dunham, Water Resources Manager at EPCOR USA, had to say about their inheritance from Johnson Utilities. EPCOR took over "some of the most neglected infrastructure" they've ever seen, according to Dunham and luckily, it's been a mess that's cleaned up. Dunham says there have been no spills in over a year and no more raw sewage in the street.
EPCOR was tasked with bringing the plumbing up to a much more modern standard and ensure it would continue working in peak demands in the summer. "There's got to be enough water pressure to flush your toilet on the second floors," said Dunham and while it's been no easy feat, "We've made great improvements."
But first, food. 
Before we turn the historically rural Pinal County into the next Arizona metropolis, farmers want you to know one thing: We need water for the crops.
Kelly Anderson, from Anderson Palmisano Farms, gave a call to nearby cities. "Any water that can come our way would be beneficial. Help us get through that hurdle, so we can help us get that infrastructure built… That's the wish for farmers."
Arnott Duncan from Duncan family farms says big cities may not yet recognize how important it is to have hydrated farmland. He says without enough water resources to feed the agriculture industry, even with enough housing, a city won't be sustainable.
"Where I come from, we believe sustainable communities need to produce some of their own food and if you look at the Phoenix megalopolis and what happened during the Covid shutdown… fresh fruits and vegetables disappeared from the shelves."
He leaves legislators and regulators with these questions:
Do we really want that? Is that the definition of a sustainable community? 
Connect with us on Twitter!