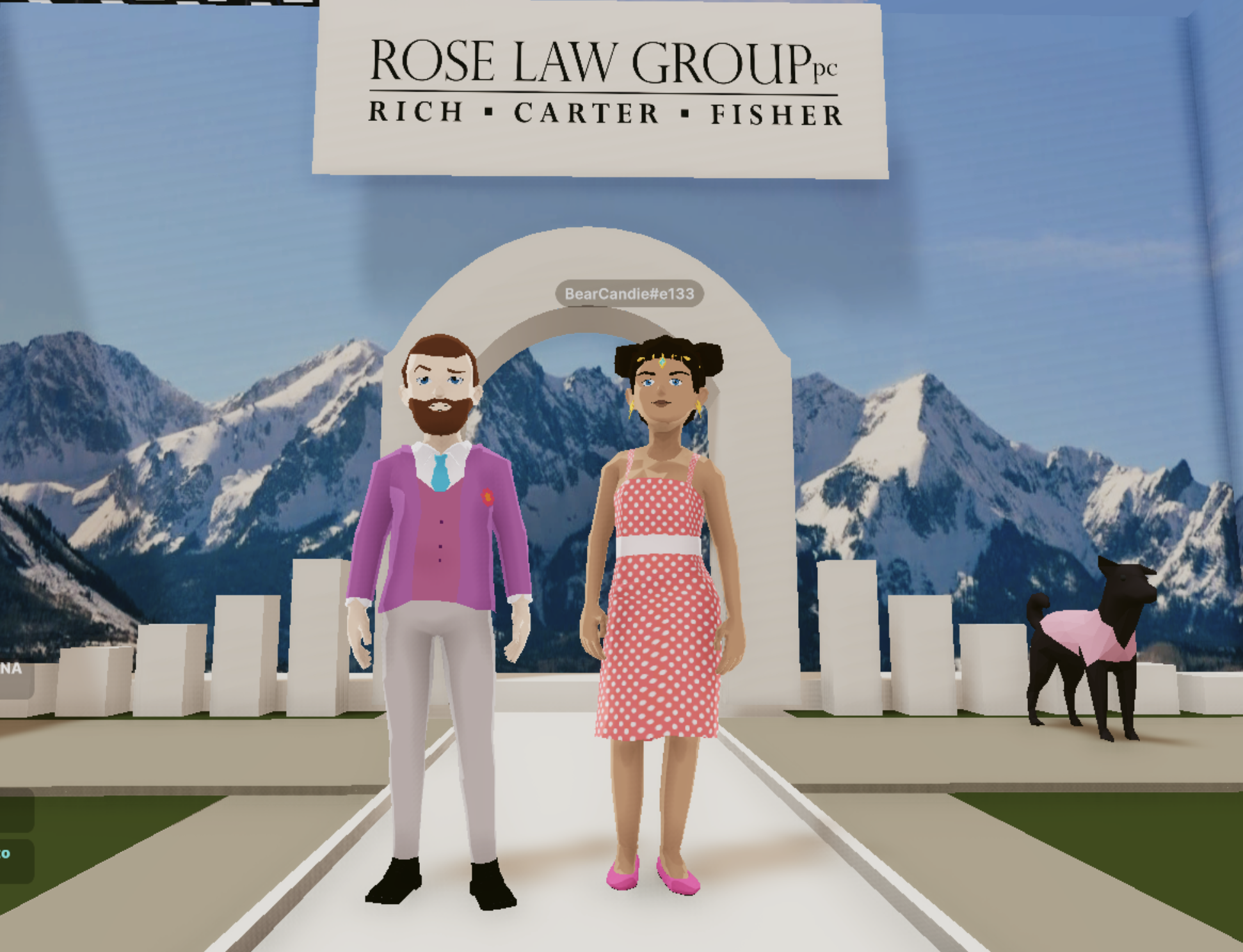 By Amanda Hoover | Morning Brew
The bride wore pink with white polka dots.
Candice, 42, stood at an altar surrounded by snow-peaked mountains and exchanged vows with Ryan, 45. The guests clapped and blew kisses at the happy couple, but they weren't wearing typical wedding attire. One was a human–bear hybrid and some were floating in the air. Others were wearing crowns or brightly colored wigs, and one wore a bikini top with plaid pants. But the over-the-top apparel and man–animal hybrid didn't bother Candice and Ryan, because the "anything goes" style of their guests fit perfectly with the couple's location: Decentraland, an Ethereum-based virtual world where people can play games or buy land in the form of NFTs.
"What's great about the metaverse is you can just do whatever you want," Candice Hurley told Morning Brew, noting the avatar she used in the 3D, virtual world wasn't a reflection of her real-life self. "I went with something a little different, a little more funky." (The couple's 11-year-old helped pick her attire.)
Candice and Ryan Hurley have been married for 14 years and their Decentraland wedding was a renewal of those vows. The IRL affair wasn't quite as interesting. On February 4, the Phoenix couple and their son gathered at a law office, where the bride and groom sat at different laptops, controlling their own avatar. Guests logged on from around the globe. Arizona Supreme Court Justice Clint Bolick officiated, but his presence was entirely symbolic, since Bolick's authority doesn't extend to Decentraland…
But to be on the cutting edge of the trend means these couples are also ahead of the law and its ability to recognize romance in the metaverse.
"There is no law that governs avatars marrying avatars in the metaverse," said Jordan Rose, founder of the Rose Law Group, which handled the Hurleys' ceremony. (Ryan Hurley, the groom, and Rose are former law partners.) "What we've developed is a blockchain marriage that's recognized on the blockchain." Blockchain technology, or an online public ledger, is largely associated with the transfer of cryptocurrencies, but it can potentially store important documents, like property deeds or marriage licenses, in a transparent and secure way.