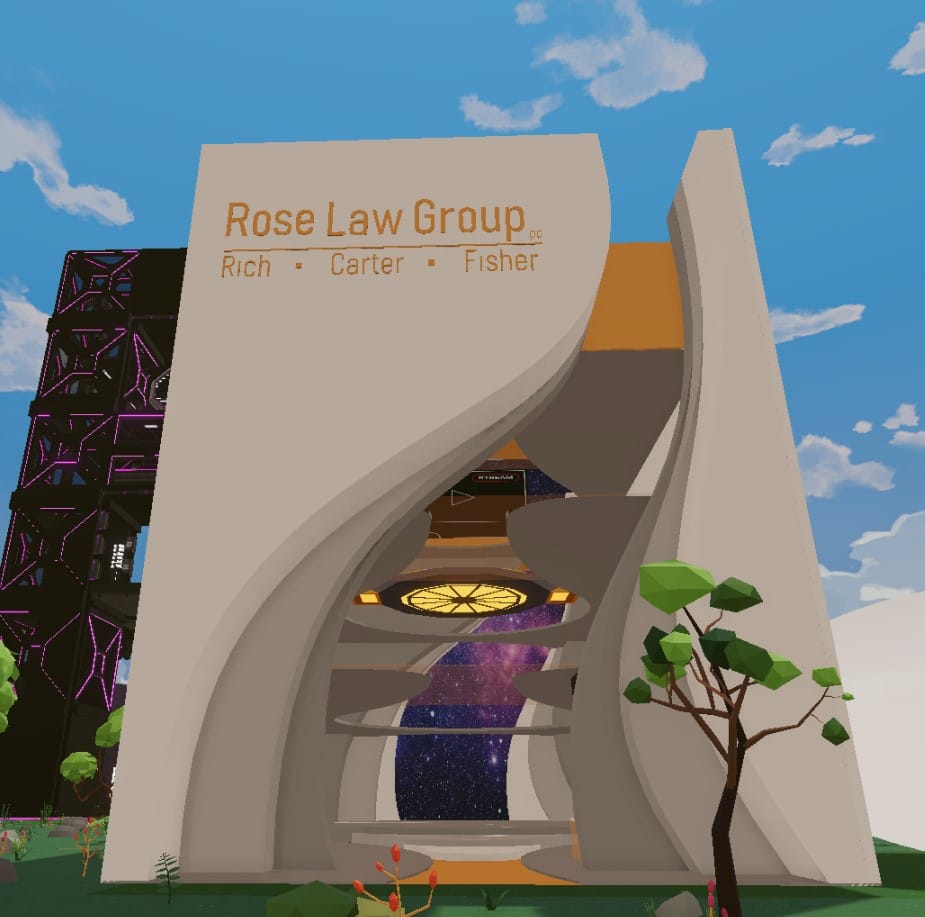 By Madelaine Braggs | Rose Law Group Reporter 
Arizona's largest woman-founded law firm is also the first full service firm in the metaverse serving metaverse based businesses and the first law firm to add a team of coders, architects and blockchain developers has now expanded its metaverse offerings to include smart contract auditing.  Among the most innovative lawfirms in the world Rose Law Group's metaverse team offers blockchain development, smart contract drafting, smart contract auditing, immersive virtual reality architecture, event hosting, NFT design and practically anything else in the Web3 category.
The blockchain revolution 
Blockchain is a digital database containing information (such as records of financial transactions) that can be simultaneously used and shared within a large decentralized, publicly accessible network. This technology is what makes the new wave of internet infrastructure (Web3) and cryptocurrency possible, by better securing data with a new innovative structure.
Jordan Rose, founder and President of Rose Law Group says, "If you are entering into a smart contract you should always have it audited by a third party as the code underlying that contract must be perfect for you to achieve your goals.  If the smart contract is flawed, you could see your business goals dashed in a very expensive way.  Recently some high profile mistakes have been made in some smart contracts that cost companies millions of dollars.  Rose Law Group has set up a metaverse practice that allows us to create and audit smart contracts.  As the metaverse entity to have lawyers, block chain developers and coders working together clients can feel secure about getting their contracts right. "
"All eyes are on Web3 right now, so blockchain startups really need to start prioritizing security. That's why we offer smart contract auditing as a service," says Rose Law Group Web3 Attorney Omar Abdallah. "We're building the law firm of the future – where lawyers and blockchain developers work together to develop and review complex smart contract code."
Prior to blockchain technology a database was structured into tables, whereas a blockchain, like its name implies, structures its data into chunks (blocks) that are strung together. This data structure inherently makes an irreversible and secure timeline of data that will remain forever.
The increased use of blockchain and cryptocurrencies has given rise to complex legal issues in the areas of business transactions, bankruptcy, corporate law, securities offerings, real estate transactions, privacy, and intellectual property.
Smart contracts, which allow for transactions on the blockchain, are ideally formulated through a collaboration between lawyers and blockchain developers.
Futuristic firsts 
Rose Law Group has always been on the cutting edge of legal services, as the first law firm in the nation to accept bitcoin, the first law firm in Arizona to work in the areas of cannabis and renewable energy and one of the first to have a robust practice around cyber-defamation.
Now, with a physical presence on Decentraland, Rose Law Group enters the metaverse as a pioneer believing that life in the metaverse is a large part of our future reality. The virtual reality team broke barriers when they organized, facilitated and designed the first meta-marriage on a blockchain-based metaverse. It wasn't just a virtual event… The union was officiated by an Arizona Supreme Court Justice and the couple, Candice and Ryan, digitally bound their Decentraland identities with a marriage license NFT. It was the first time an NFT had been used as a marriage license and it came with the first NFT prenuptial agreement as well. The prenup covered their digital assets including NFT collections and cryptocurrency.
The meta-wedding venue was designed by metaverse architect Davalos and coded onto the Rose Law Group land in Decentraland. The event was attended by tens of thousands of guests, enough volume to effectively crash Decentraland. In true wedding-day-crisis fashion, the platform's programmers had to rush more server capacity to the event because it was so packed. Technical support told the Rose Law Group Web3 team it was the largest event on the platform since it launched in February 2020.
This new era of technology has remarkable utilization potential in the digital asset space and traditional transactions with real-life impact. For example, another of Rose Law Group's metaverse ventures was the first fundraiser for a non-profit on the metaverse to fund a terrestrial project for Habitat for Humanity. The team designed a virtual walkthrough tour of a real home's design in Decentraland, created and designed an NFT collection for Habitat for Humanity and held a weeklong promotional event, allowing Habitat for Humanity to raise money and awareness from all over the world.
Unlike the other several law firms already open in the metaverse, Rose Law Group is not entering the field to feed it's Arizona-based legal practice, but rather to assist individuals and businesses participating in activities in Web3 and to protect them legally.
Services we are providing include: 
Smart contract drafting
DAO formation
Smart contract auditing
Registering and legally protecting digital assets (including NFT's, Avatars, Cryptocurrency)
Risk mitigation for digital assets
Helping navigate the legal intricacies of cryptocurrency and blockchain technology
Regulatory investigations and defense
Resolving disputes between customers and cryptocurrency exchanges
Offering highly skilled 3D modeling using many different softwares, including Rhino, Grasshopper, Blender and 3Dsmax
Providing 3D renderings and Virtual tours of Web3 properties
Parametric 3D models and Generative Design, using coding and algorithms to generate responsive 3D models- automating urban planning and design
Designing and creating VR experiences, mostly used to immerse a client into its future building or on the metaverse
Creating NFT collections, built an algorithm capable of setting up thousands of different 3D space configurations, and can build VR experiences from these 3D models
Designing and building out of anySmart  metaverse experience, including buildings, tokens, event venues, and even creation of games
Full-service wedding and event planning/implementation, including invitations, NFT favors, etc.
Creating 3D spatial experiences and deploy them into different Metaverse platforms, such as Decentraland, Sandbox and Somnium Space, among others